Conference Bus? What? Okay, let me explain. So, in 2007 about an hour or so before the lemonade stand started, a giant tour-bus pulled up in front. Naturally, we were all very confused. An elderly man came off of the bus, and told my mom and me that they were a group of retired engineers going off to their annual conference. They had heard about me and my lemonade stand on the radio on their way to the conference, and had decided to stop and say hello! Power of the media? Indeed. So, this was all great and nice and everything, and I said "thank you so much," but then the elderly man invited me to come on the bus for a moment to say hi to everyone else. Little did I know, that along with just visiting my lemonade stand, they had collected their pocket change (or whatever they had at that moment) and put it into a small box, and presented it to me in front of all the amazing elderly engineers on the bus. It was truly a one-of-a-kind experience. Guess what? The same bus came for at least 3 years after that, and we always loved wishing them luck at their conference every time!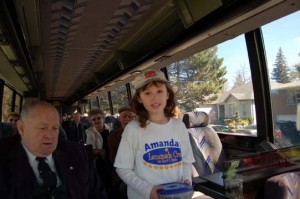 Here's the picture of me on the bus, with the amazingly collected pocket-change!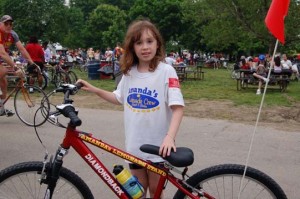 Oh, I almost forgot! 2007 was also the year that I got my brand-new bike for the Ride for Heart! I still have, love and ride that red bike today with the words, "Amanda's Lemonade Stand" printed on the side. Coolest bike? Definitely.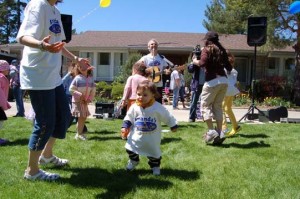 Oh, and just because I CAN, here's a picture of Joshua being a beyond-adorable 1-year-old. (You can "awww" now)