For the first time in Amanda's Lemonade Stand history, it rained on lemonade day. Really, it had never happened before, so this was a kind of obstacle that no one had expected, and we had to adapt to rather quickly. But, besides that, the lemonade stand was a success. We prevailed, and it was the first year that Joshua officially took over the lemonade stand. Yes, 2011 was actually a really huge year! Super-busy, but super-rewarding!
Below, is an article written about the lemonade stand that year: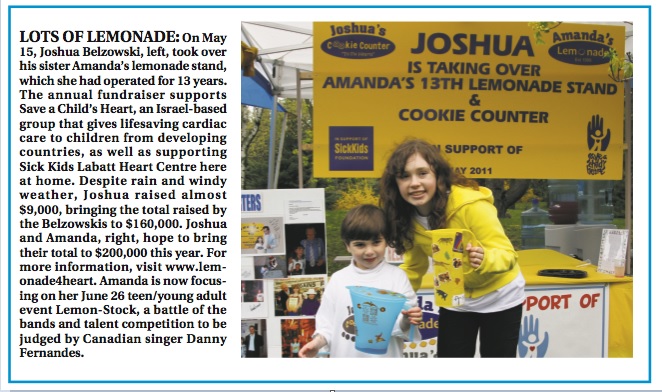 Also, that year was ginormous in the sense that it was the inception of LEMON-STOCK. It was my battle of the bands event for teenagers, that was to promote teens getting involved in changing the world, one band, and one glass of lemonade at a time. Lemon-Stock was "fixing hearts" and "saving soles" because we were raising money for Save a Child's Heart, Sick Kids Hospital, and Soles for Souls (which collected shoes for people in developing countries around the world). We had a total of 13 bands competing at the event, and to headline it, we had the incredible DANNY FERNANDES!
Also, below is the Lemon-Stock logo, that also went on all the shirts. Awesome? Definitely!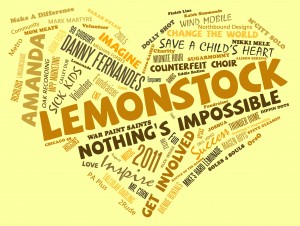 Who knew that 2011 could be an even busier year? Well, guess what, is was! In that year, we also started the "Nothing's Impossible Young Entrepreneur Course!" The course was a spectacular one day event that taught 9 to 15-year-olds how to be social entrepreneurs in their own communities. And, it was a giant success! We taught the attendees my five steps to making a difference: 1) Finding A Cause; 2) Brainstorming; 3) Advertising; 4) Staying Determined; 5) Having Fun
Between bringing in the fantastic Ryerson University students to teach the kids about advertising, having great hands-on activities, and giving out many brochures for the organizations that mean something to me in order to inspire them, it was an unforgettable day of learning and self-enrichment. Here's a picture of me teaching the "Staying Determined" section: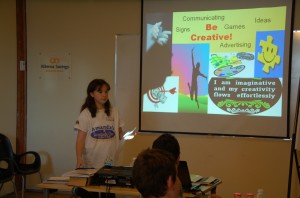 Well, 2011 was an insanely busy year, but it came with many incredible rewards and experiences that I will never forget!