When I was around 7 years old, I had yet to master the incredibly then-difficult skill of winking. So, when a newspaper reporter approached me a few days before the lemonade stand that year, wanting to do a story on me, but then asked me to hold some lemonade, and wink at the camera, I'm pretty sure I was skeptical. My mom has told me that story countless times too. Apparently, when faced with that challenge, I immediately ran into my grandparents bathroom, held my eye closed with my fingers, and then ran back outside to where the reporter was, hoping my eye would stick for the appropriate amount of time. Eventually, I actually had to learn to wink. The result? Success! (see below)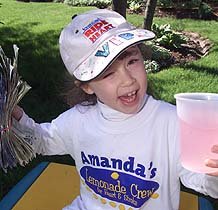 The lemonade stand that year was also a huge success, and I think also marked the year of my very first yellow sign! I was definitely growing out of the pink – and besides, yellow was more lemonade-appropriate anyway. 
So that year was also another fantastic Ride for Heart, and as you can see, the attach-a-bike was yet another success! (There's me and my dad!)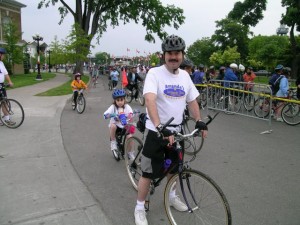 This is another great picture, because every year since then, I've been able to go to the Ride and present them with the money I had raised that year, on one of those super-cool giant checks. They really did used to be bigger than me!